About the event
Watch the videos and photos of all sessions below.
Ifmec's 5-year research program into FM's strategic position started Friday, April 8 2022. Professionals from various sectors provided an inspiring start to Estate Zonheuvel. Central to the presentations is the rapidly changing world around us. The consequences of these changes are noticeable in the primary process of all sectors.
The speakers on this day shared their views on the changes and the consequences for the sector in which they operate. There were speakers from education, healthcare, business services, industry and government. All notice a change in what goes wrong and what could be improved, but they run into very diverse problems. From more bureaucracy, (too) far-reaching market forces and the power of health insurers to cutbacks and staff shortages. A lot was touched on this afternoon and an underlying pattern also became visible.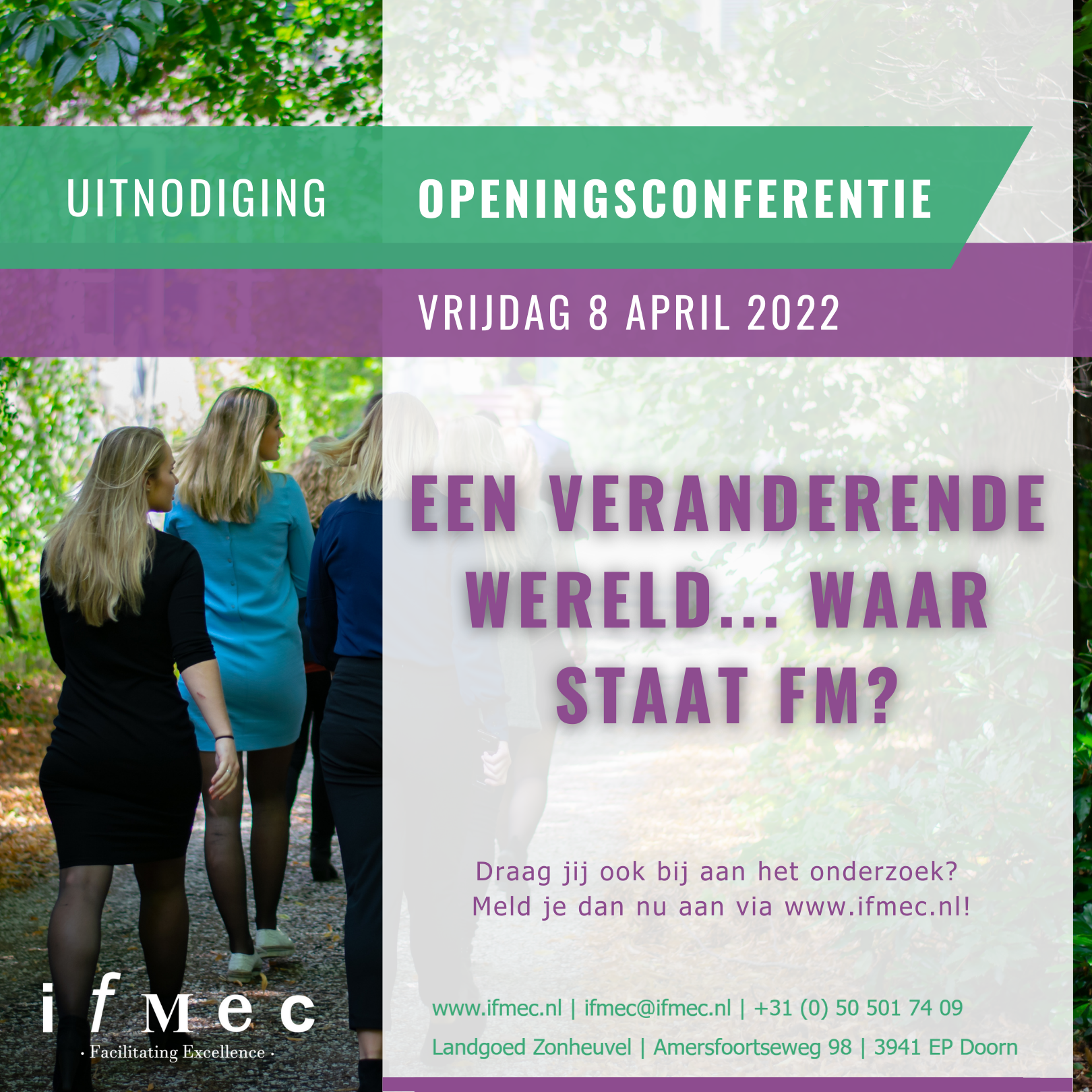 Looking back at the opening conference
It is inevitable that the changes in the world around us and the way in which we deal with them also have major consequences for the Facility Management field. This research year, Ifmec wants to investigate, in collaboration with FMN, where the changes are going and, in particular, what consequences this will have for FM.
The Opening Conference is the starting point of a broad professional field consultation through sector-specific dinners at Landgoed Zonheuvel with the theme: which changes do you recognize in your sector, in your own organization and what does this mean for FM? Read below what the speakers shared about these changes in their sector!
Facility Management in a risk society
Professor Vosselman, Academic Dean at Ifmec, expanded his speech from 2021 with an introduction to FM in a risk society. Society is on its way to a different order, the so-called 'tipping space', in which there is a radical uncertainty. If we want to learn from experience, we will have to move away from a system of 'blaming & shaming' within our society. We need to get rid of the judgmental culture, where managers shift responsibilities and implementers only follow the strict rules instead of what we can learn from them. After this introduction, speakers from various parts of our society spoke in parallel.
The changes that are taking place in the various sectors
Vincent Schenkels, owner of The Enablers, got us thinking from the perspective of business services. "Perhaps 40% of facility services in business services will become redundant. He says that FM should take much more responsibility to ensure a healthy climate in the broad sense of the word. Healthy employees ensure a healthy return. The so-called Business Nomad puts the interests of the collective first and is very involved. How to facilitate this employee? FM has this knowledge and could make more use of the strategic position they occupy within an organization.
Gwan Kwee – psychotherapist with a long track record, took us into the world of GGZ Care and told us about the market forces within healthcare and how this affects the quality of GGZ care in a worrying way. The power of health insurers seems to have become much too great. They determine what is good and what is not based on general (financial) figures.
Piet Bakker – many years advisor on education for young children with "the wind against the wind", shared his vision about what is going on in education. "We now know quite well what is needed for this group of children, but what is stopping us from actually doing that?" Education is also affected by the culture of accountability. In addition, the high workload caused in part by the accountability culture based on a lack of trust in professionals plays a major role.
Michel Tobé, head of Facility Services at the municipality of Capelle aan den IJssel, spoke from this government sector about the changed relationships between government and citizens. People seem to be looking for new connections and he gave appealing examples from his congregation.
Jan van de Venis, owner of JustLaw, among others, addressed the enormous challenge facing the industry from his position as an international expert in the field of sustainability and climate change: CO2 reduction and the energy transition.
Kees Veling, director of the Derkshoes elderly care in Drenthe, made us think about the way in which care for the elderly is currently being implemented. Can it also be done in another way? Or are the problems only due to shortages of personnel and budget. Is more of the same the solution or should other more sensible factors be considered?
The recovery of the Netherlands
As a former director of the college for journalism training, Bas Mesters returned to his "old" profession of investigative journalist
There are a lot of big problems in our society and we have no idea where we are all headed. We have all noticed that the world can change quickly because of Covid-19 and the war in Ukraine. Bas Mester's diagnosis of the state of the Netherlands is sharp. Our prosperous country is showing serious symptoms of disease. He aptly describes the current state of the Netherlands by entering into discussions with 12 professionals from various sectors. People who don't have much power or an agenda, but who do have refreshing ideas about how things can be done differently, if only we want to.
This book, which everyone receives as a gift, will form the starting point for the research agenda in 2022.
In addition to the additions to the opening conference, 100 facility managers will be invited in June, July and August to share the changes in the primary process within their sector and their own organization prior to and during a dinner on the Zonheuvel estate. The conclusions and advice for the Facilities field will be recorded and presented at the final conference on 18 November.
Round table dinner The Government: Tuesday evening July 12, 2022
Round table dinner Business Services and Industry: Thursday evening 25 August 2022
Round table dinner Education and Care: Wednesday evening 12 October 2022
Closing conference: Friday afternoon, November 18, 2022
It would be great if we hear and see you too! You are cordially invited. You can register via the Ifmec website.

View all presentations here!
Ed Vosselman: Tilting space | Opening Keynote
Bas Mesters: The restoration of the Netherlands| Closing Keynote
Vincent Schenkels: Sector Business services
Michel Tobé: Sector Government 
Kees Veling: Sector Healthcare 
Jan van de Venis | Sector Industry 
Gwan Kwee: Sector (GGZ) Mental Healthcare
Piet Bakker: Sector Education